Are you ready to have a more consistent income with more time and money to do the things you want to do?
Customized Sales Training & Mentoring
Exclusively
for Women In Sales
This is perfect for you if:
You know the products and services that you offer, but you need to know how to sell them … Send Help!
You want the security of knowing that you can pay your bills today and still plan for the future.
You want less stress and drama in your career, so that you have more time to enjoy your family and friends.
You  want to be noticed and get the same recognition that you see other salespeople getting for achieving great results.
You may even want to move up the ladder into a sales management position some day.
But, you sometimes feel each day is a huge mountain to climb and then you start to think "maybe I'm not cut out for this.  Is it really worth it?"
Yes it's worth it!
Let's ditch the frustration!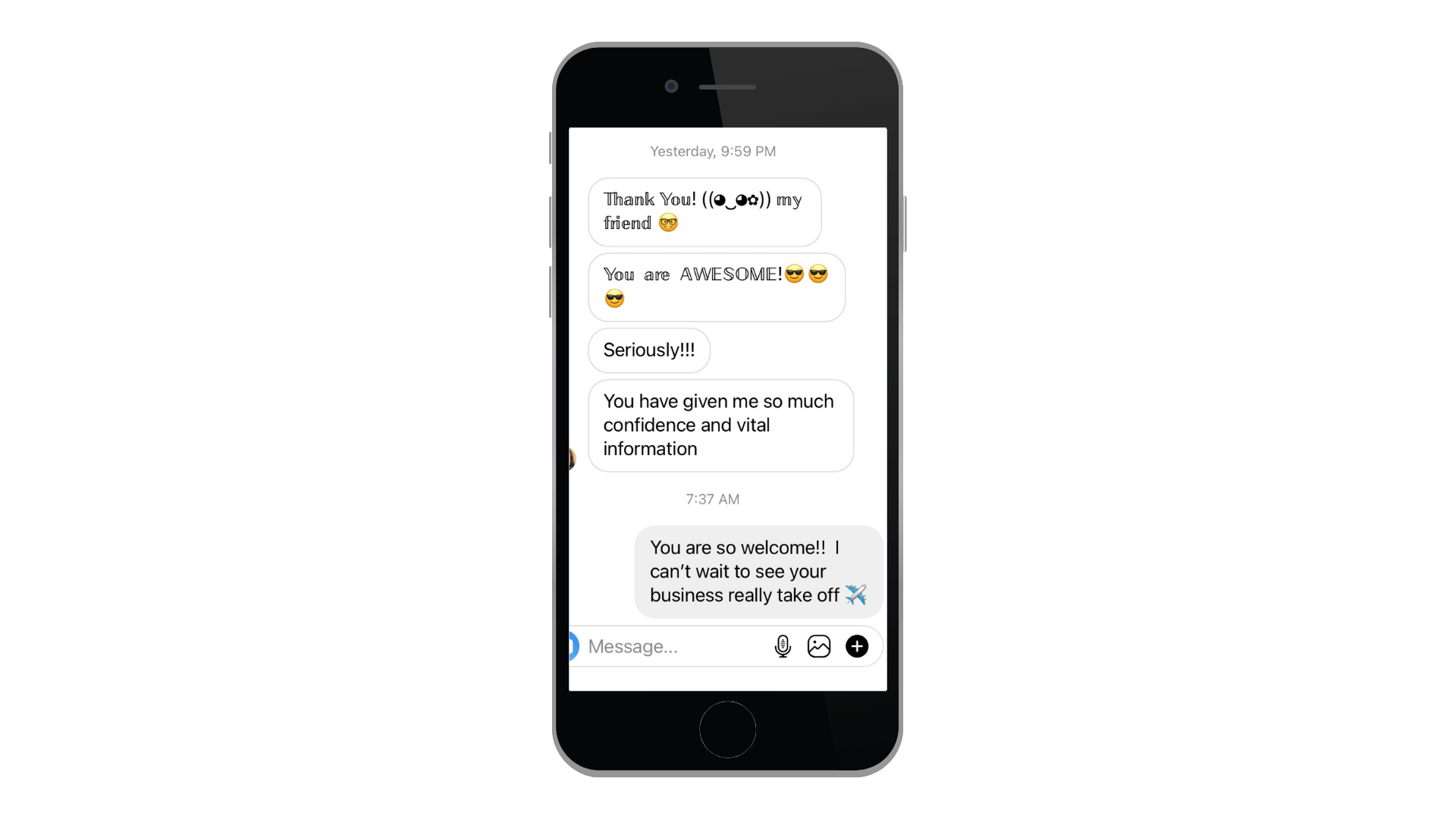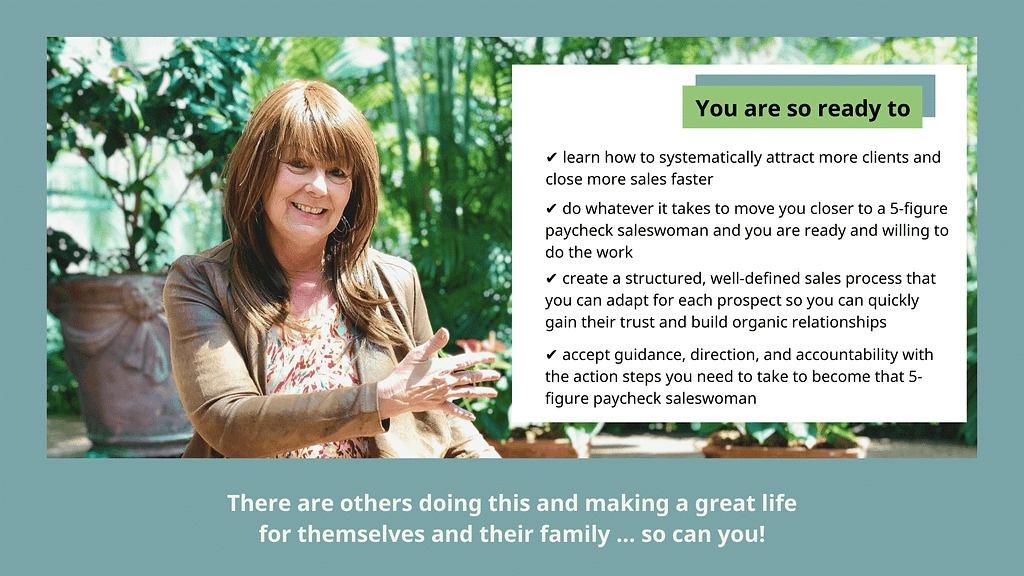 It's not like you haven't been trying
I know you've been trying.  I get it, I've been there, too. I feel your pain and frustration.
You've listened to 5 long, drawn-out podcasts this week (and it's only Monday morning!)
Each podcast gives conflicting advice; these pieces aren't gonna fit together
Hours of your precious time has been poured into reading books and watching YouTube videos to see if they can clear the fog for you, but … you're still confused
All of this 👆 has just added to your confusion.
Stop spinning your wheels and start closing more sales!
Here's the problem …
You're trying to take bits and pieces from what everyone else is doing, when maybe they aren't even meeting with prospects and clients every day anymore!
It's time to clear the fog and ditch the overwhelm!
STOP spinning your wheels.  Too much of your precious time has already been wasted.
START gaining clarity, confidence, clients, and sales!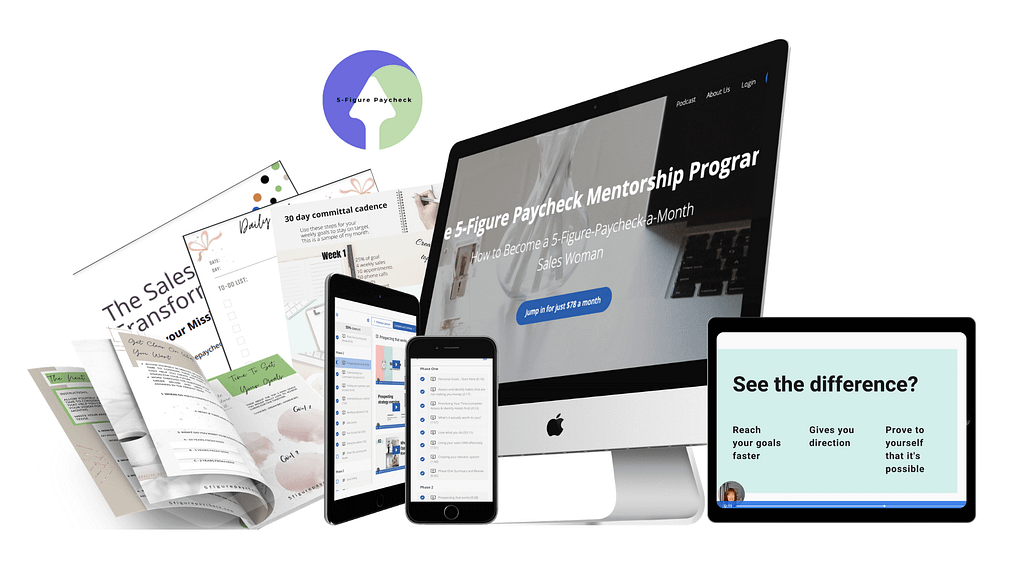 Here's what you can expect when you join the 5-Figure Paycheck Community
Let's Break It Down Further ...
(click on each one to learn more)
This isn't like other programs...
…where you get access to the course and then all the mentorship and guidance disappears after those first few initial group coaching calls.  
I am here for you,  to answer your questions and help you reach your goals.
I'll be here to cheer you on, support you,
and answer all of your questions.
I am committed to your success.
★ Unleash the RockStar you know you are ★
AND you'll get these amazing bonuses:
Who am I and why should you trust me?
You want specific support and advice from someone who's already travelled this exact pathway.
You don't want to waste money and you want to follow a system that's been proven to work, time and time again by someone that is still meeting clients every day and who understands what is working now, and what isn't.
You don't have time to keep piecing together everyone's free content – you want to start getting major traction right now!
You want a mentor who understands the unique struggles of women, and how to work within the time constraints that come with having a family to care for AND trying to make an above-average income at the same time.  
You want to get feedback as you go along so you know that you're on the right track and aren't making mistakes along the way.
I have to ask you ...
what will your life look like when you earn 5-figure paychecks every month?

OK, I want to do this.  What happens next?
Option #2 - join the 5-Figure Paycheck Mentorship Community and get started on your beautiful vision TODAY!

Get that profitable sales career that gives you the freedom lifestyle you crave. It all starts with one small investment in yourself.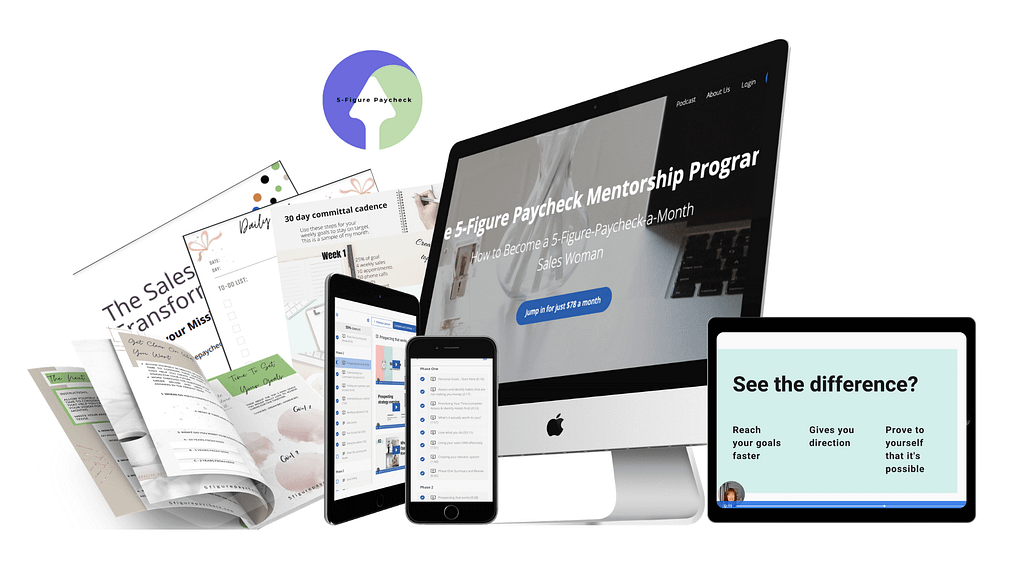 The 5-Figure Paycheck Mentorship Community
but, the Founding Member Price ends 4/12 
Everything you need to be successful in your sales career!
Get ALL of This For Only $78 a month
Questions?
I have answers!