If you haven't already read Understanding Your Sales Manager, please make sure you take a few minutes to read that for valuable insights on how to improve your relationship with your sales manager. Today we were talking about 5 ways to take your existing opportunities and maximize your sales opportunities.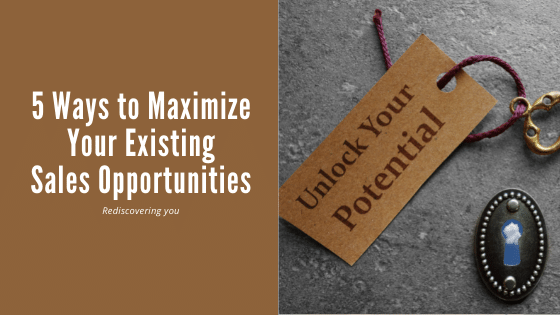 1. The number of "sales touches" before you can close the sale is growing.
Have you gotten better at creating relationships with your clients through email and text? Every one of them is a touch that brings you closer to a sale.
I find, especially with email, that it helps me to see if my prospect is interacting with me, or not. I can see if they open my email, how long after I send it they open, and how many times they open it. This is an added benefit provided by using my sales CRM. Paying attention to this metric has helped to maximize my sales opportunities and increase my sales by allowing me to focus my attention on the prospects who are interested and to quickly follow up after I see that an email has been opened. Decision makers are spending more time online than ever before, including checking their emails.
2. In SalesForce's annual selling report, they outline the importance of having better customer relationships and learning what customers really need.
Another thing I learned is the importance of creating those long-term relationships with clients and prospects. Those people that look to you to be their main authority or "go to" person in your field, and who call you with their problems, questions, and sales.
You form these relationships by continued contact after a sale. And while it sometimes overlaps into my "off – duty" hours, by having direct access to me through my personal cell phone number, they can text me and reach me relatively quickly and consistently. That goes a long way to make them feel important.
And it is probably my number one secret sauce for maximizing my sales opportunities and being successful and growing my sales. I agree, it's not for everyone. But in light of all the adversity of the past year, I think the benefit outweighs the input of my extra availability.
In the Salesforce report, 75% of sales reps reported they are connecting with clients on a more personal level. 86% say that they really care about the challenges their customers are facing.
3. Do you use your CRM to help forecast your sales for this month, and next month?
How nice would it be to be able to predict your next two months of sales?
Your upper management is doing it, so why shouldn't you? When you input and maintain the correct data, you will be able to see which prospects to focus on this month, and if you currently have enough prospects in your pipeline to reach your goals.
It only takes about 15 minutes a week to update the information in your CRM forecasting report and be intentional in your sales.
You can also look back at last month's report to make sure that clients you didn't close last month stay in my pipeline instead of just dropping off.
Then take a look at next month's report to see if you can speed up the process for any of those prospects.
4. The two biggest challenges sales reps face when seeking these customer insights is …
• Having enough time 77%, and
• Figuring out what info is the most valuable 75%.
Can you find the next 15 to 30 minutes a week to get this info? Especially if you knew that your ROI return on investment, for spending this small amount of time would be 100% and help you increase your sales and create a more predictable income for yourself.
5. Just like we need more time to implement all the info our companies are giving us, your prospects have more information available for them to sort through
… before they make a buying decision. I agree that it takes more touches, and conversations, to close a sale. The key is to take this knowledge, maximize your sales opportunities and create a systematic sales process that fits into today's sales timeline.
The good news is, it doesn't have to take longer. When you understand the current sales process dynamics and you create a system, you can put a plan in place to speed up your follow-up time. Instead of waiting 3 to 7 days before you follow up, make it one to two days. This way even though you have more steps, or touches, you are completing them faster. The more meaningful touches you have, the more trust you will build.
Recents Posts: