Have you ever heard the phrase "a confused mind never buys" before? Let me explain it, by sharing a story with you about the Jam Study of 2000.
Yes, It's a real thing.
People were offered 6 types of delicious jam, and after they tried the jam, they picked what they wanted and bought it. Sale made!
BUT, when they changed up the study a bit, gave the testers 24 types of equally delicious Jam, they were 90% less likely to make a decision!
I get this, because there is a flea market near me that has a pickle place. And the pickle place has 100 different types of pickles.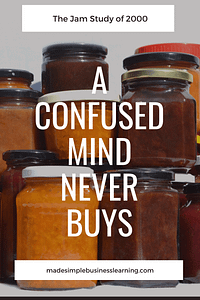 I was thrilled, and I knew I would be bringing home some pickles with me that day. I'm always looking for a good garlic pickle, the old – fashioned ones they used to keep in a barrel. Anyway, easy sell, right? No! I tried all of them, at least it felt that way. But, I didn't buy anything! For one, I was full, and I never wanted to eat another pickle ever again.
And two, I was just overwhelmed with all the choices, and, a confused mind never buys.
It's the same for your customers. There are seven ways you can confuse your customers, and you might not even realize the confusion you could be creating.
We all want to show our potential clients how knowledgeable and capable we are.
But what are you really saying to your customer, or what are they really hearing? Are you using too much industry – speak, talking in a language your customer just doesn't understand? Use what I call "simple speak", almost like you are talking with a child in kindergarten, without insulting the customer's intelligence, of course. Speak clearly, and with words your customers will understand. Even if they act like they understand, they may just be too embarrassed to tell you they don't. And, a confused mind never buys. No sale.
Is the potential customer not exactly sure what you want them to buy?
Sometimes we will talk too much about what we offer, without asking good questions to learn more about the needs of the customer. And the potential customer may not be exactly sure what you're asking them to do. Be clear about your offer and make it easy for them to make a decision.
What should your potential customer do next?
Are you asking for the sale? If they are already a customer, are you asking for the upgrade or the add on? Do you want them to give you a referral? Is there something that you need from them so that you can complete their project? Please don't ask for everything at once. Make a list, and when it's done, move on to the next thing. If you ask for everything all at one time, the customer will become confused, and you will accomplish nothing.
Why should they buy what you are offering? Yes, this sounds so simple, but it's true. They understand what you're saying, what you're asking them to buy, but they may be wondering why you're asking them to buy. Let them know why you feel this product or service would benefit them. Will it save them time or money? Protect them or their families in the time of crisis, or just provide entertainment and relaxation? Be clear on the value and benefit for them.
When will what you promised them happen?
What steps do they have to take? Give them a time frame or an agenda. A confused mind complains or gets upset if they feel you are not living up to your promises and their expectations. Make sure you are both on the same page.
What are you promising?
On top of the time frame of what will happen when, be clear on what your promise is! Sometimes the customer may think you have promised them something you did not promise them. I avoid this by writing down a list of the promised things, if they are not laid out in a contract. I have them review it with me, and I ask them if I missed anything. That way when a customer asks for something additional out later on, I can remind them of what we spoke about and offer to help them with their next step.
Stay in touch with them.
Don't just take their money and run. After all, you have now established a relationship and they trust with them. You've done the hard work, don't loose the benefits. It could be a phone call, an email, a handwritten note. Let them know you are thinking about them once in a while.
Check out my most recent blog post.
Thanks for stopping by. Please leave your thought or questions in the comments below and I'll be sure to respond quickly!