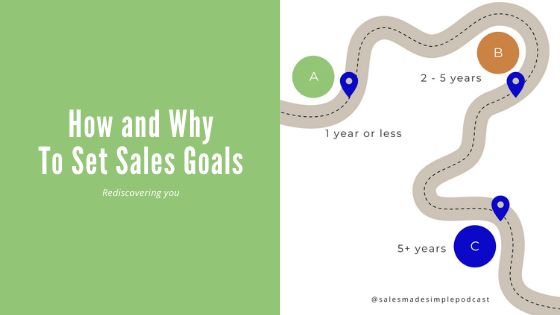 What type of goals should you be setting to be successful in your sales?
I believe that the reason that so many sales women don't set goals is because they aren't sure what goals to set. Or know what to do with these goals once they set them.
Everyone says set goals, right? But what does that, or should that really mean? Let's pick it apart and break it down.
There are three types of goals we're going to talk about. Long-term goals, mid-term goals, and short-term goals.
First long-term goals.
By long-term I mean five years or more in the future. Maybe a new home you want to buy, or helping your kids while they're in college… Moving up the ladder in your company. Long-term goals give you something to strive for and add meaning to your life. They're necessary for self improvement. To keep you focused on the things you need to do to get where you want to go.
Long-term goals provide you with a vision and a direction. In the 7 Habits of Highly Effective People, Stephen Covey wrote about the principles we use to make decisions. He compared it to a compass. When you create your goals based on your principles, you're using your internal compass to make decisions about your life and work and your future. This allows you to make your choices with greater intention and purpose. It connects you with the reasons you make your decisions, and gives you a stronger purpose and drive. When you know your long-term goals, you will be able to determine the steps you need to take to achieve your goals.
You should set clear, measurable goals with specific steps and actions and deadlines. Then you can complete them to get the outcomes you desire. Kind of like a road map with stops along the way to help you get to your final destination. Long-term goals allow you to see things that are possible for you. Then determine what will be required for you to get there. Once you make these decisions, your subconscious can help direct you to these goals – if you keep reminding yourself and directing your brain as to what your goals are.
Another way of saying this is, write your long-term goals down, and look at them often. Without long-term goals in place, you may wander through life with no clear direction – and never realize your true potential.
The second type of goal is mid-term goals.
Within two to five years, like buying a new car or paying off credit card debt, or buying a home. When you think about these goals, you are able to take an inventory of where you are now – your finances and your relationships. Depending on where you are in your life, you will be able to set the steps in place and determine the time it will take to reach some.
Mid-term goals are the checkpoints on your way to reaching your long-term goals.
Then there are your short-term goals.
These are the ones I talk about the most, because they are the goals you can set and do right now to take control of your situation. Like setting your personal monthly sales goal and writing out the actions you need to do every day to reach that goal. Once you achieve your short-term goals, your medium term goals will be easier to obtain.
Think of short-term goals as the building blocks to achieving the larger goals you want in your life. So it's important that your short-term goals enhance and are in alignment with your long-term goals.
In sales, your short-term goals might look like this.
• Reaching your sales target every month
• Working backwards to create the steps she will need to take to reach the goal.
• Creating your daily action steps, like how many calls, emails and texts you will need to have completed each day to set the appointments you need to reach your monthly sales goals.
Don't forget accountability.
The reason I've added the accountability & mentoring aspect to the 5-Figure Paycheck Membership Program is because, according to the Association for Talent Development (formerly the American Society for Training and Development) 65% of people complete a goal if they ask someone to hold them accountable to their goals. And 95% successfully met their goals when they discussed their progress and success with that accountability partner.
Usually in life, the things we want don't just happen because we hope they will. It takes hard work and planning to make them a reality. Living with intention and purpose.
The best way to figure out your long-term, midterm and short-term goals is to ask yourself, what do I want my life to look like in 5, 3 or 1 year? Write down your answers and set your priorities for each one of your answers.
Use your short-term goals to reach your medium term goals and ultimately your long-term goals. When you have to find your long-term goals, it is easier to say that you're mid and short-term goals and align them so that you become daily intentional in your actions and why you want to achieve each type of goal.
Will this guarantee you results? Obviously, I can't guarantee that, the only way to get results is to take action. I'll provide all the accountability, support and encouragement but you have to put in the work.
When you set specific goals for yourself, understand why these goals are important to you, and prioritize the importance of these goals, you will be able to reach your goals faster, and be able to work towards them without losing traction. Even if you occasionally don't reach a short-term goal.
It will also give you direction in what to do on a daily, weekly and monthly basis to continue to move closer to your goals. As you start to see results, it will prove to you that you can accomplish your goals when you have the right strategy in place.
No matter what types of goals you have, it's hard to achieve them if you don't have some basic steps to set your goals the right way. I've designed the Ultimate Goal-Setting Guide to give you the tools you need to achieve all of your goals.
Recent Posts: