Setting Personal Boundaries in Your Sales Job
Setting sales boundaries with your clients, and your co-workers, requires patience, and strength. It's something you have to decide ahead of time and plan for it. Stick to your decision, or you will find yourself feeling frustrated and resentful — with people calling you early in the morning, late at night and on weekends.
For phone calls, you can record a welcome message stating what "open" hours are. I don't check my emails after work hours. But you can't do that for texts.
The hardest type of communication for me to avoid are texts, because you can't miss them. A text requires a more immediate answer than a phone or an email. Although I have found a way to put an "out of the office message" on my iPhone. If you would like that tip please send me an email and I will share that amazing tip with you.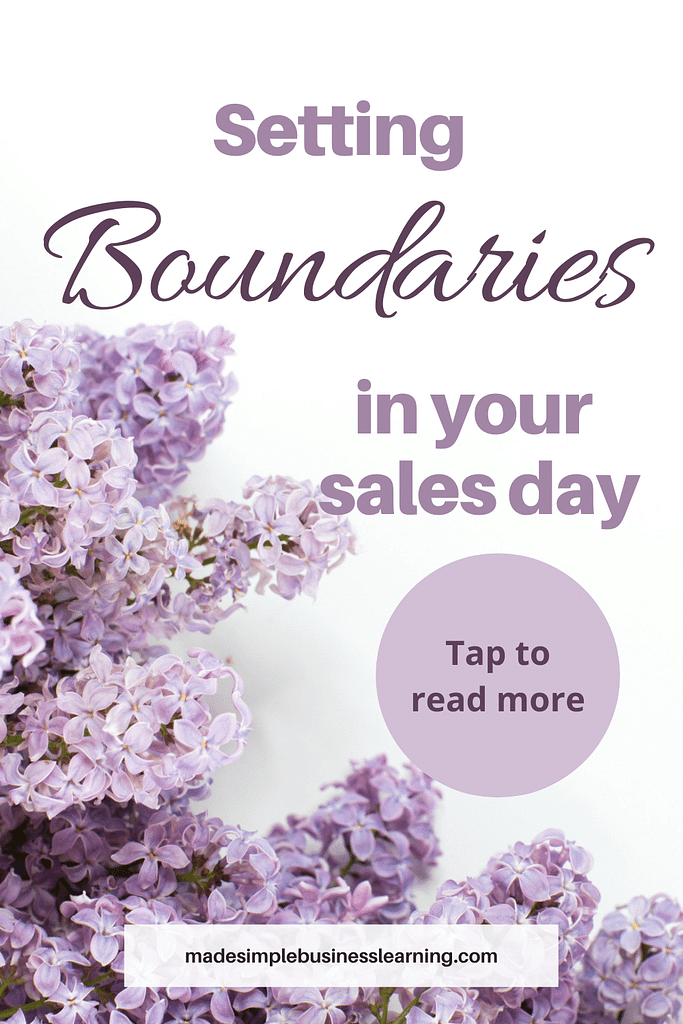 Sometimes it is easier to do some work at home after the kids go to bed. That way can have everything set up and laid out for you when start working in the morning. It has allowed me to work 4 days a week when they were little, so I could spend more time with them. There's always a trade-off, and the choice is yours.
The point is, set your sales boundaries.
For example, right now, when I am off, I am off. Because sometimes I work weekends, I may take a day off during the week. I had to work to get people in my office to understand that the day off is not a day for them to send me messages and expect me to call clients back. And I give them the sames respect.
When I did take those call and messages, I found I ended up working for 4 or 5 hours, on my day off.
When you're in the sales, people will always have something they need from you.
But if you are not taking the time you need to work out, get basic housework done, go to the dentist, do laundry, etc, you will become tired, overwhelmed and resentful. So now, when people call me on my day off, my office tells them, "Nancy is not in the office today but will be back tomorrow". And I haven't lost a customer yet because of it.
How about setting sales boundaries with your clients.
Do they call or text you regularly after hours or before hours? If you're okay with that, fine. If not, you may have to change your phone greeting to reflect the hours you will be "on call" and available. I think the biggest thing is to let your customers know and keep them informed.
Part of why customers get frustrated with salespeople is because prospects and customers don't know what to expect. So be clear in your message — your clients and your co-workers will learn to respect that space.
Setting sales boundaries with "perpetual prospects".
Have you ever had a potential client continue to set up a meeting after meeting, where you were hoping, and they were promising, to spend their money with you? When was the point that you realized that they were just using you to get some work done for free? Or they were using you to provide that third quote they needed to make their decision, or they just came in to chat and pick your brain?
Has that ever happened to you? In my earlier sales career, I would spend time with these people, sometimes hours. And the more I gave, the more they wanted. But when it came time for them to buy something from me, they would have excuse after excuse. Sometimes going so far as becoming upset with me for having the nerve to ask for a sale. I call these people "perpetual prospects".
This includes people that repeatedly stopped in to see you without a sales appointment.
Over the years, I have gotten better at asking questions to weed out these "time suckers". For one, I limit my meeting times with them to 20 minutes. Set the boundary.
If I find they are price shopping, and I am number two on a list out of three, I ask them to see me last. I want to be the third person they see. Some prospects will accommodate me. When they do come in to meet with me, we can usually come up with an agreement.
Others become angry, especially if I ask them to come to my office. Not only am I am in a bidding war, but they want me to go to their home or office. Draw the line. They have probably already made their decision. They just want you to make them feel better about their decision, without even having enough skin in the game to get into their car to meet you at your location, where you can show them how you can solve their problem in a better way than your competition can.
I have found the more demanding a sales prospect is, the less likely they are to buy from you.
So, we've talked about setting boundaries with your co-workers, and setting boundaries with your clients. There are times it is okay to nicely and respectfully say no.
Now let's talk about setting boundaries with yourself.
There are some times that we want the sale so badly that we may compromise our own values. If you have a vision for what you want your life to look like, it's easier to set boundaries with yourself. This will allow you to reach your goals faster.
An example of this is – how many hours you were willing to work each week. I will work up to six days a week, but I need that one day off. 2 days would be even better, but let's remember you were in sales and probably working on commission or salary plus bonuses. If you want to make the good money you have to be laser- focused at work to accomplish what you want in the shortest amount of time possible.
When you are planning your calendar, enter the things you need to do for yourself first —
Those things that will help you run at optimum capacity, like doctors appointments, oil changes (you can't drive anywhere if you don't maintain your car), even work-out time and time with family and friends. You need that time to unwind. Then plan your client appointments around that.
By setting your personal boundaries and deciding how to handle the "boundary breakers" before they even happen, you will save your sanity and be better equipped to politely put your foot down, while still being able to serve your clients, and your entire business, in the best way possible.
Take your power back and make the decision yours.
And remember those people that become very demanding. Are they a customer or a Perpetual Prospect – demanding more of your time and resources without showing any signs of buying, except on going, long-term promises?
Ultimately how you run your business, which is what you are doing in a commissioned position., is up to you. The better the plan you have in place, the happier and more productive you will be.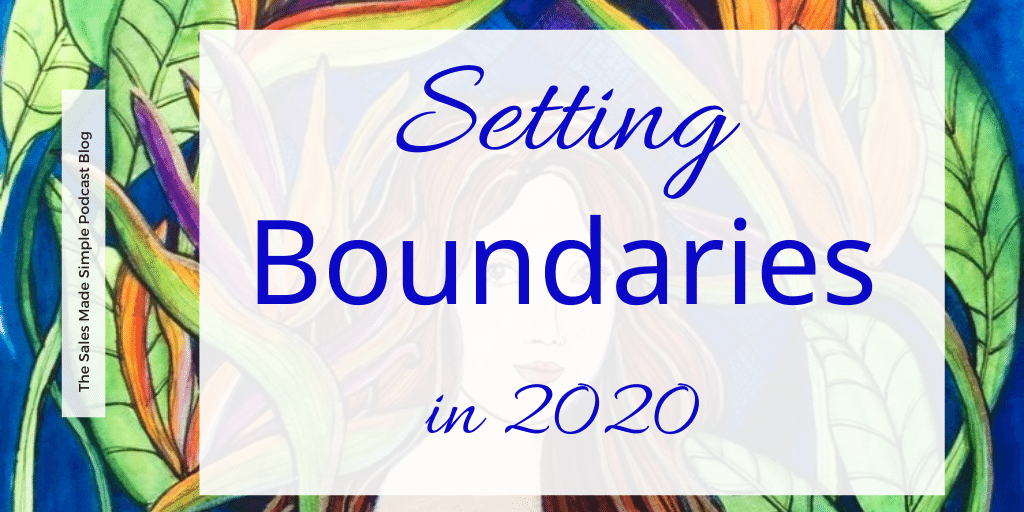 They've been the biggest years of changing and adapting ever, and while the basic sales tips and techniques still serve me well, I've had to adapt to more virtual and remote selling, even better preparation before presentation, using new technology – the list goes on.
One thing I'm really struggling with is taking time for a "vacation". For one, it's not like I can hop on a cruise ship and disappear for a week.
I have found the opportunity for virtual and remote selling means that I am taking sales calls even when I am home, because I can! I think customers expect you to be more available, as the days seem to run together for all of us. Is it Sunday, or is it Tuesday?
Setting sales boundaries has become something I've had to work at even harder.
While I love my sales career, I also need to clean the time for myself. When will I take calls and texts, and at one point do I let them wait for the next day?
As a salesperson, it's extra hard, because many of us are paid only on our sales performance. It's hard to set those boundaries when it affects my livelihood and the opportunity to make money.
It's harder to tell people that I'm going away for the weekend, or even the day – with social distancing and all. Especially when my prospects for spending more time at home, too.
Because I've been very clear, and adamant about setting boundaries, it's all working out, but it has taken some extra planning, and my being a little more comfortable with saying no. I have been limiting the amount I spend "checking in", or checking messages on my my phone.
So, if you are feeling like you are having a tough time separating your business life from your personal life, and creating a new work/life balance for yourself, here is another tip for taking that time for yourself, without alienating your customers.
Stand your ground.
Set the times that you were available, and not available. It helps if you are clear in your voicemails and email auto-responders about your availability, and when or how long it might take before you get back to someone.
I stay a bit later at the end of the day to make sure I return every phone call and email I have gotten that day. I have always done this, but setting that boundary, and lettering people know that may take me a little longer to get back to you is working.
It did take a while for people to get used to this, but there's only one of me and I want to give everyone the attention they deserve, not just jumping from one client to another and getting nothing completed.
I don't think I'm the only one feeling this way, which is why I feel it's important to talk about. We are just trying to figure out our "new normal" and learning how to get through a very stressful time.
In fact, according to Teachable, there has been a noticeable increase in sleep disruptions. As our routines and schedules change, and with the extra stress placed on us… I am either sleeping really well or I am up aimlessly wandering the house in circles at 3 in the morning. I know it's not just me, because I can see those emails from you all come over at 3 a.m., too!
It can be tempting to get some work and if you can't fall asleep. Fight that urge and do your best to stick to a "work schedule" to help you maintain those boundaries you are working so hard to set up.
Just know that you are not alone in trying to figure out how to make this year and it's new challenges work for you.
Recent Posts: