Disclaimer: I received a copy of the book from HarperCollins Leadership. But that doesn't change the fact that I think it's terrific! Please read my DISCLOSURE for more info.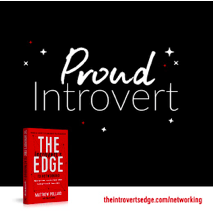 Are you an introvert who HATES networking?
Networking can be one of the biggest drivers of career or small business success.
Yet, for most introverts, they'd rather get a root canal than network – face-to-face or even digitally.
That's why I'm so excited to tell you about a new book, and I feel it's important enough for you that I take the time and write my first official book review, from the point of view of someone in the "sales trenches", like you and me. Someone selling to end users every day.
The book is The Introverts Edge To Networking by Matthew Pollard. Keep reading to hear my personal review, and how I feel it relates to everyday salespeople like you and me. I will also be sharing with you how you can get your first chapter free, and other helpful resources for you to learn more.
After you read the book, let me know your thoughts by leaving your review in the comments below.
Let me start by saying this is Matthew's second book. I was first introduced to Matthew when I read his first book, The Introverts Edge – How The Quiet and Shy Can Outsell Anyone.
While you don't need to read the first book to get the value from The Introverts Edge Guide To Networking, when you have read both books, you will have a complete outline in creating your own successful sales system.
In his new book, Matthew explains why introverts make better networkers.
As an introvert, yes me! I was highly skeptical. How can you even say introvert and networking in the same sentence without breaking into a cold sweat, right?
After four chapters, I stopped being skeptical, and by the end of the book, I actually became a believer that I, too, can do this, and I began to put my own system in place. Which leads me to – you will want to have a pad and pen next to you as you go through the book.
The premise behind this book is that you can take the ideas and information and use them starting now. "As introverts we're willing to put in the work to obtain a consistent successful outcome." Implementing this series in a step-by-step actions that will work for you, if you do the work.
And it's not hard! Just have your highlighter and the notepad next to you. Think as you read. Which is perfect because we "love being super prepared and equipped for success before we ever walk in a room".
It took me about two weeks to read the book, because the first few chapters I kind of read through with the mindset of "networking will never work for me". Then I really started to connect, to see how this could actually work for me, and any sales professional that identifies as an introvert.
With true stories and real life examples from people whose paths have changed by using some strategic planning and making a few small tweaks to what they were already doing, Matthew takes you on a journey of how you can systematically become a successful networker, and teaches you how to articulate your value in a way that will make you stand out and inspire genuine interest.
As I went through the book, I realized how much of a networker I am, just not in the traditional way. Yes, I talk to people in line at the grocery store. Yes, I talk to people on planes. Or even online at a theme park. Yes, I am passionate about what I do and why. And yes, I love what I call "matchmaking" – sharing things (and people) that I really like that I know would be a great fit for each other. Hence the reason for this book review.
By sharing this book with you, my fellow sales professionals, I am introducing you to someone that I know could have a major impact on how you look at your business, and massively help you on your sales journey.
The overall theme about networking that I got from the book is that "being strategic, being prepared, practicing and knowing how to cultivate deeper relations", and Matthew definitely shows you, throughout the book, to do just that.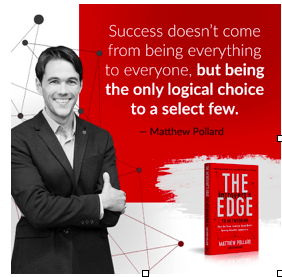 Because he's a very successful Rapid Growth ™ coach, keynote speaker and the founder of the Rapid Growth Academy, who has transformed over 3,500 struggling businesses worldwide. His mission and I quote, is "to help introverts like us to realize that we don't have to be (or pretend to be) extroverts. That our path to success is different. When we embrace that, while leveraging the power of systemization, we find our Edge, we make our own luck, and we realize our dreams".
I can't think of a better way to summarize this book and the review.
If you haven't figured it out already, I highly recommend you read the Introverts Edge to Networking, by Matthew Pollard.
As a true introvert and skeptic, I did have to push through the first couple of chapters. But it was worth it to get to the gold. Even as a seasoned sales professional, I learned so much on how to improve my networking, and sales.
This book also comes along at a time in our world where things are constantly changing. By learning how to strategically network in an online world, or face-to-face, and hopefully without a mask someday, you will be more prepared to stay relevant and successful in turbulent times.
But don't take my word for it…
Download the first chapter free here and check it out for yourself.
I'm sure you'll be hooked and will be motivated to read on.
Which is why I'd highly recommend clicking the link below to…
Available as a hardcover, Kindle or audiobook from all major retailers, including your favorite local bookstore.
When you do, Matthew will also give you free instant access to over $700 worth of bonuses, including The Official Introvert's Edge Step-By-Step Implementation Training and a personal invitation to his private Facebook community of like-minded introverts.
To claim your bonuses, simply order your copy of The Introvert's Edge to Networking at your favorite online or physical retailer, then sign up for the bonuses here with your name, email and order confirmation number.
I greatly look forward to hearing what you think of Matthew's new book.
I'm sure you'll love it too!