Have you been using email more than ever lately? Are they working for you? Today I'm going to share with you the six steps to writing effective sales prospecting emails that will get opened at a higher rate than what you are probably seeing now.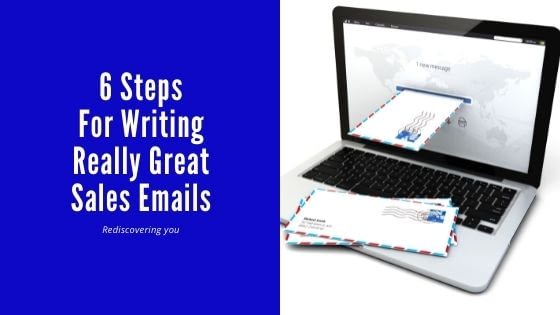 Why is this important? For one, if you've been following me lately, I've been saying to contact everyone in your lead bank, anyone that has ever done business with you or your company.
And if you're like me, I'm ready for some new opportunities.
Are you looking for more sales opportunities?
Opportunities to serve your clients and customers and opportunities to meet new people? Lately, I have found myself relying on more and more email, and even snail mail. So I wanted to review Email 101 for Salespeople – Writing Effective Sales Emails, because I think it is something that we can all do today to improve our sales.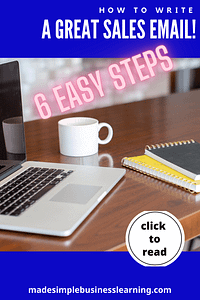 Which emails are you most likely to open?
Do you open emails because you know who they're from? Or maybe because the subject line sounds interesting?
As you go through your emails this week, pay attention to the emails you are opening and the reason you are opening them, because your clients and prospects will open emails from you for the same reason.
Do you know what your email open rate is?
If your company provides a CRM, like Salesforce, or another software to manage your leads, see if you can send an email directly from that program, and use it. Track who is opening your email. The people opening your emails are probably the people most interested in what you have to say, and sell.
When you start tracking your open ratios, you will also begin to see other trends, like the best day or time to send emails, and the best subject lines.
Make your customers and prospects want to open and read your emails. I find the best email subject lines are questions.
I think that as you look at the emails you open this week, you will agree that the reason you open them is because the email subject line is something you're interested in, or it intrigues you. Do the same thing with the emails you send.
Okay, so now you've gotten someone to open your emails. What's next?
Every email you sent should be intentional.
Your email should contain one call to action. Like "call me for more information", "hit reply and let me know what you think", or "watch this video I have (or your company has) put together".
If you ask your prospect to do too much, they will do nothing. So keep it short, keep it simple, one call to action.
Think before you write.
What do you want to achieve with your email? What is your goal?
Think about it, at what point do you lose interest in an email? What makes you click for more information or hit that reply button?
Just like if you give your prospects too much to do they will do nothing, if you give them nothing to do they will do nothing.
Write your emails in a way that the recipient will relate to.
One size does not fit all. Are you using a friendly font or an old fashioned font? Is your style of writing more formal or more conversational? Choose your format to reflect the prospect's style.
The first two lines of your email are the most important in determining if your prospect will continue reading it or not, and how effective your sales email will be. Remember, be purposeful and intentional, while being friendly.
if you can give a personal compliment in your first two lines – who isn't going to continue reading, right? It's "What's in it for me?", and "Hey, I like this person, so I'll read more!"
Stand out from the crowd, and all the other emails your prospect gets every day. You want to connect with your prospect in the first two lines.
Researching your prospect a bit before writing that email is time time well-spent.
From there we are going back to the main goal of your email.
Share a little bit about who you are to gain credibility and trust.
Don't write a bio here, explain the problem you are trying to help them solve – in one sentence. Remember your elevator speech. Explain the benefits, or what's in it for them. Then your call to action, which is why you are contacting them in the first place.
Be very clear about exactly what you want them to do, without being too difficult.
Let's review.
1. Your email should be about three paragraphs long, with no more than two sentences in each paragraph.
2. You're amazing subject line to get them to open their email. Forgo the dear mister and missus and just use their first name with a "Hi" or a "Hey".
3. Two quick sentences about who you are and why you were contacting them, using your research about them and / or their company. And "Hi, my name is _____ " doesn't cut it. Be a little creative.
4. The benefits or reasons you want them to take action. Using bullet points for these two or three sentences will break up your email or make it more readable.
5. Your simple call to action. Make it as easy as possible for the person you are emailing to take action. Like "hit reply", or "click the link". You can even set up a simple, and free online calendar, like Calendly, where they can click a link and schedule an appointment or a phone call with you with one quick click. Make it simple.
6. Your signature. This should be memorable and even interactive. Below your name you can put in a link to a relevant video you or your company has put together, or even that clickable link to your calendar again, if that's what your goal is.
One last tip, check your spelling before you send your email !!
The old, boring ways of email are exactly that, old and boring.
It takes a bit more work, and even research, but I know that when you take these additional steps to improving your emails by writing a more effective, intentional sales email, your open rates and response rates and ultimately your sales will improve.
If you would like 5 Customizable Emails For You To Warm Up Your Prospects Before You Even Meet Them and 25 Sales Email Subject Lines To Help You Get Your Sales Emails Opened, you can get them here!
Recent Posts