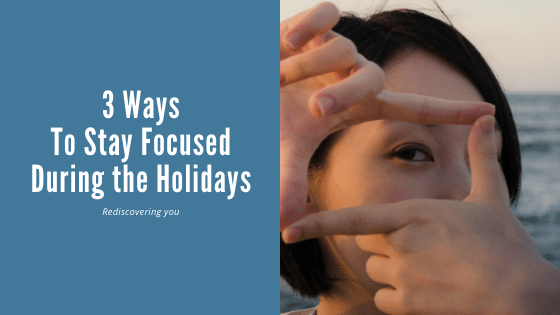 Are you finding it harder than ever this year to stay motivated in sales and focused on working. Or is it just me?  It seems harder to reach people, reach people on the phone, or get return phone calls or texts, too.  Why is this?
After a year of not spending the holidays and special times with my family and friends, this year I am enjoying holiday parties, holiday plays, and holiday planning in general.  There are more people on my nice list to buy presents for, including more angel tree wishes.  If you don't know what an Angel Tree is, you adopt an angel, a child or even a family who might not have much of a Christmas if it weren't for you "adopting" them for the holiday and providing them with gifts.  If that's something you think you'd like to do, check your local Salvation Army for more information about how to participate.
Now, I haven't forgotten about you. 
In fact, I am calling December my Listener Appreciation Month, because we are so close to hitting 40,000 downloads and my Rocketbook Panda Giveaway.  I have been using my Rocketbook Planner every day for almost 2 months now, and I know the lucky winner will love this as much as I do!
And starting today, December 14th, I have a one-of-a-kind present for you. Actually for those of you who are really committed to increasing your sales in 2022.  I am committed to helping you increase your sales, and you'll have me in your corner for 6 months.  6 months of full access to my proven 4-step 5-Figure Paycheck Sales program and members area with personalized coaching.
Yes, I am even including in 4 private coaching sessions as a bonus for signing up, so we can create a growth plan just for you!
The fun part is, I am going to let YOU decide what to pay for the 6 months! This is your chance to get my 5-Figure Paycheck Sales membership at a price you want to pay! Now that doesn't mean I will be accepting every low-ball offer. All offers will be considered, but some might be rejected.
To learn more and put in your bid, go to www.5figurepaycheck.com/nameyourprice.  All offers need to be in by December 29th to be considered.  If your offer is accepted, I will give you a customized checkout link, so you can start off 2022 with an attitude of success and a plan to back it up.
As you can see, I am in kind of a crazy, giving place this year.  When they were younger, my kids would ask if I was drunk when I got into this kind of mood. (No, I wasn't!).  When I get really happy, I get a little giddy and it can be hard to tell the difference.  Even with all the scary things that are still happening every day, I am choosing to be happy this year. And I hope that you are able to find the mindset to do the same, no matter what position your situation finds you.
Back to how to overcome the difficulties of staying motivated in sales …
… and of reaching prospects and clients this month – keep trying. 
And try in unique ways –
∙ a holiday card with a handwritten address (who doesn't like to get a personalized card?), 
∙ a text wishing your prospect or client a happy holiday,
∙ a reminder to that prospect you met with last month reminding them how important they told you it was to make a decision by the end of the year,
∙ or even a drop-in (if they are local) with a small box of chocolates.
Because everything seems to be slowing down, you have time to be more focused and intentional,
instead of just rushing from one meeting to another.  Hopefully your attentions will turn into results in December, but it may just be setting you up for January.  Don't get discouraged. Just keep pushing forward.  You may just be one big sale away from reaching your quota.
I am also taking this time to follow up with customers this year,
to make sure that I did everything I promised them. To clean up all the loose ends, if you will, so that I can go into 2022 without having to do that work.
And I keep on reminding myself that I am only half-way through the month.  The problem that many salespeople face in staying motivated at this time of year is that we let our self-discipline slip.  This happens because during the holidays, we are not living our usual routine.  We are focused on our own plans and holiday celebrations. We spend more time chatting with the other people in our office, and we are more easily distracted.
So, what can you do? 
First, decide when your most productive time of day is.
Mine is between 10am and noon. 
Second, decide on the most important tasks you need to complete –
– prospecting and follow up are mine, this month.
And third, schedule time for those activities during your most productive time …
… and stick to them. 
For example, I have committed to some type of prospecting every day between 10 and 11, and follow up between 11 and 12. 
Unless I have a set appointment.  And in my less productive time in the afternoon, I have that list of stuff I need to do that doesn't take as much focus. It just needs to get done.  I do the tasks that require more focus and energy done in the morning, when I have more focus and energy.  
When is your most productive time of day? 
In my world, it seems like by 2:30, my friends and family are also shutting down. That's when the texts and phone calls start, and I get distracted once again with holiday plans … and online shopping.  I feel guilty even admitting that, but it's true. And I know that by recognizing and admitting to my weaknesses, I can also find that "work-around" and schedule in the time for the money hours. Even if it's less time than I would spend on a "normal" day.  
Take that quieter time of day and brush up on your sales skills …
… read some of that book that you've been putting off.  At least you are doing something motivating and productive, right?
I've been doing research and planning out a couple of new sales training ideas I plan to release in the first quarter of next year.  I'm always curious and learning. Because I find that when I put these things together for you, it also helps me to increase my own sales.  Keeping up with current trends in sales and how prospects and customers think is not only fascinating, to me, but necessary to increasing my own skills and techniques every year.  There is always something I can do to improve and also make my client experience even better.
Thanks for being here with me today, and make sure to follow and tag me over on Instagram @salesmadesimplepodcast.  Tell me your ahas and takeaways from this episode, and share this episode with a friend to help them in their sales journey.
Until next week, I wish you alignment and success.