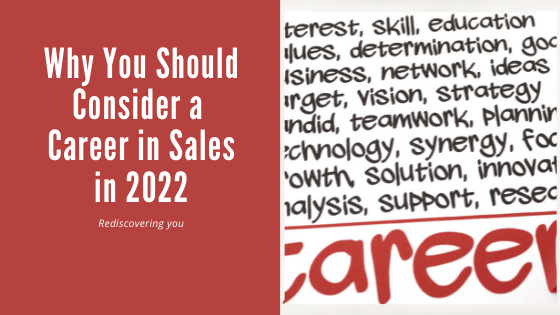 Why you should consider a Sales Career in 2022.
The number one podcast episode on the Sales Made Simple Podcast, even after 74 episodes is … the first one, about why you should consider a sales career. Much to my embarrassment. Because when you start a podcast, your first few are not your best.
And with my analytical mind, I have tried to figure out why the first episode has stayed number one, for so long.
It was the beginning of a relationship with my listeners. I have shared with them the foundations of my beliefs in how to get better in your sales, and consistently hit your sales and personal goals each month.
It's also helped me in my own sales career! Sometimes we forget and turn away from the basic techniques that we used to use. I can tweak them to still be relevant in this crazy time of selling in 2021.
And I've come to the conclusion that it's because the podcast relates to people, both those who have been in sales a while, and also people just starting out in sales or considering a sales career.
Right from day one, I set at the three outcomes of what I wanted my listeners to get out of the podcast.
1. To constantly reach your goals and increase your sales each month.
2. To lower your stress, and feel more in control of your day and your outcomes.
3. To become more confident in your abilities and your capabilities.
With short burst of learning, 10 minutes or less, that you can take action on and use immediately to help grow your sales and reach your sales goals. That hasn't changed. Those are still my three goals for you.
And I'm working on something new to help you even more! Based on the responses, it's working for many of you on some level. So allow me to share my story today, and why you should consider a sales career, IMO.
So, I got into a sales career by accident.
Why? Because people always need influencers to get people to buy their products. Why do people listen to me? I don't know. But it's a gift. And I'm pretty good at getting people to buy. Especially if it's something I really believe in myself.
Sales to me is a profession and a career, not just a job. I still spend a lot of time learning about people and sales, because no matter where you are in your journey, you can always get better.
One of the reasons I love my sales career is the chance to meet fantastic people.
I have met Holocaust survivors, astronauts and politicians, and I love hearing their stories. Most people love to talk about themselves, and if you can make them feel important and smart, they will probably want to keep you around, and maybe even share you with their friends.
I also love the flexibility.
You can many times set your own schedule, and even move things around within your day quickly. That's especially helpful if you have a family and family obligations. I have found that the better you are, the more flexibility you get!
You will never have to ask for a raise!
If you want to make more money, work harder and sell more. Companies are funny like that – the more you sell, the more they pay you. And the more valuable you become to both your clients and your company, and …
A Sales Career can pay much more that your average salary.
Yes, you will probably work harder than your friends. But if you are looking to make an above average salary and stand out from the crowd, then you should consider a sales career.
Now it's only fair to also talk about the drawbacks of a sales career.
It's super easy to get lazy, or distracted. Possibly know when is literally standing over your shoulder. And if someone is, that's a good thing. Because they care about your success. They will make you do what you need to do to be successful. So be careful about getting too caught up in the activities that don't make you money.
The second drawback is the dreaded word, commission.
There, I said it, so let's talk about it. You may be one hundred percent commission, which means, if you don't sell, you won't get paid. That can be scary stuff, or you can look at it in a positive way. The more you sell, the more it you make – the only limit is yourself.
It's all about your perspective and your mindset. So stay positive and go out and get what's yours.
I have never considered myself as a "typical" salesperson. I always want to help my customer make the best decision for their situation, which doesn't always mean the most dollars for me. My customer really doesn't care about my paycheck, not even remotely. check out of the equation. Listen to your customer, where they are, what they want to accomplish. And show them how to close the gap. The money will always come if you just consistently do the right thing for your customer.
So, if you are considering a sales career, planning on building a base of happy clients, making a fairly consistent amount of money each year with the opportunity of making more, and feeling like you were actually making a difference in people's lives is for you, then you should really take a look at sales positions available to you!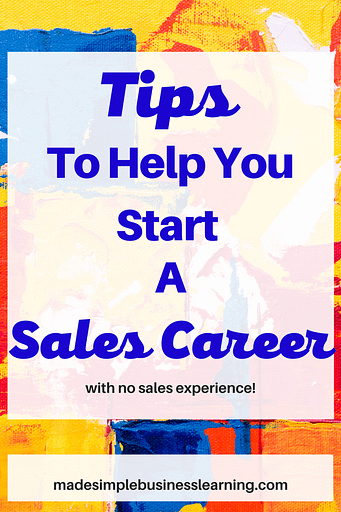 Take the time to understand the product or service you are selling.
If you're not an expert, work on learning. At least know who you can turn you to get reliable, honest answers about your product, delivery, etc.
Understand your customer.
There is no one more important than the person you have an appointment with right now, so, shut off your phone and focus on that person, or people, only. They will appreciate your attention. Focus on what they are saying. If you are doing most of the talking, stop it! You are not paying attention to your customer.
Find out why they will buy by asking open ended (not just yes or no) questions. You will learn how you can close the gap and help them. For example, what is your current supplier not offering you that would greatly improve your company by saving them either time or money or both? Are they offering you someone dedicated to your account that really understands your current needs?
Don't get frustrated if they say no the first time. You may have to spend time learning their trust. There will be a time when you call or walk in the door at just the right time, and you will be ready. Usually it takes some effort to form a relationship. Find out how to make yourself valuable
Be gentle with yourself.
Don't beat yourself up by comparing yourself to other sales people in your company. But do find the top salesperson and find out what they are doing to be successful, and how they got to the top. I'll share a secret with you – most top sales people love to talk about themselves.
Find your sales niche.
I found my niche by getting a list of customers that didn't do business with us anymore, or "the difficult clients" list, who just needed a little extra TLC. I grew these people into my client base by finding out what we had not provided for them in the past that they wanted, sometimes just a tension… And I gave it to them. I treated each one of them as if they were my best customer.
Do what you say you are going to do.
I have done some crazy and very time-consuming things to make sure I could and did deliver what I had promised. Sometimes kicking myself the whole time. Driving 200 miles to pick up something I had promised that my supplier was not able to get to me in time… But I kept the customer, and got new ones, and I did it honestly. I delivered on my promises.
Today has been kind of a sales overview of what my blog and podcast, and a sales career are all about. You will see that I dig deeper into more specific subjects with each blog. I like to keep each of them short, with one actionable thing to do each time. That you can take what I teach and use it immediately in your sales presentations, to help increase your everyday.
I talk and teach about current problems and real solutions for those problems that I see everyday in my own sales career and in talking to other salespeople. People I work with and those that email or DM me with their own questions and struggles.
And I know that that is why the podcast and now the blog continue to grow each week as I reach more people and find new ways to help sales people grow in their sales careers to reach their own personal and sales goals consistently every month.
Thanks for joining me today! Please let me know if you have any questions or if you are considering starting in a sales career.
Recent blog posts