One of the biggest challenges in sales that I know — whether your direct sales, online sales, or business-to-business, is … how do I find sales prospects and get in front of more people? And my answer is – find an online outlet where you can share what you do with more people than you ever thought possible.
Social media has helped immensely me to find sales prospects.
And I started off with nothing, with a "side-hustle" podcast and a dream of online course creation.
Whether it's a blog, or a podcast, or on social media site like Facebook or Instagram live videos- meet your sales prospects where they are hanging out so you can let people know what you do.
The larger real estate companies provide you with your own website, where agents can post valuable information about their communities and available listings.
If you own your own business, you can do the same thing to find sales prospects. You can use Pinterest pins to drive traffic to your website, your blog or your podcast.
Pinterest, if you don't know, it's a search engine like Google.
You can "pin" there, which is kind of like a sales page for what you do, and actually add a link there to the website where you want your audience to go! At no cost to you!
And it's not just for interior designers, scrapbookers or recipes. You can even use Pinterest for local audiences if you're a real estate broker or an insurance agent.
On Facebook, you can currently put a link to your blog or podcast within your post, or in your header if you sign up as a business (for free).
Are you a real estate agent, an insurance agent, travel agent, are you selling a product, service, supplement, fitness program, coaching or online classes? Do you already have a blog or podcast of your own so that you can share with people about what you do?
Using the power of a blog or a podcast to find new sales prospects is incredible, even if you don't have a following yet.
And isn't that really what you want? Followers that come to know, like, trust and love you – I think this is sounding like an easy way to find sales prospects!
How much faster could you close a sale if your potential client already felt like they knew you, before you even met them? How much easier would it be to connect with that person if they already knew who you are and what you can do to help them accomplish their own goals?
Let's recap:
A blog or podcast, where you can share information about what you do.
Explain to people why you do what you do is important. Let them know what you have or do (you're offering) does, and how it can help someone… How is this not better than making phone calls, knocking on doors, sending out endless letters to strangers to find sales prospects?
With a blog or a podcast, there are ways to help them to find you instead of you "prospecting" to find them!
Think about your own buying habits.
We have our weekly groceries, cars, clothing, makeup, whatever delivered to our door. So you have to find a way to get into your potential clients online buying habits. Meet your prospects where they are.
How do we do that?
By popping up in their search engines, like Google or Bing.
Let's say you sell insurance or real estate in the local area. You can started a small, local podcast where you speak each week about the different types of insurance you offer. To help people become knowledgeable and educate them.
You can sign up on Instagram and started as a local business account (for free). Then drive people from your Instagram to your podcast, where you educate them, and they get to know you.
Eventually, you start to pop up in their search engines on Google as a local business. When they are looking for insurance, or a new house, they will find YOU – do you get where I'm going with this?
And it will work for anyone with the product or service –
From dog walkers, to artists, to dentists. Why do you think podcasts are so popular right now? Because they can drive traffic to you and your business, while educating prospective buyers in their own space and time. WIN-WIN.
Obviously there is a time of start-up and growth here. But what if you were to start as an additional way to find more sales prospects and get in front of more people? Continue to use the traditional ways you are using now, while you are starting up the online or social media part. Because, let's be honest here, how well have the traditional ways been working for you lately?
With more and more people being socially connected online, and finding goods and services online, doesn't it make sense for you to create a bigger online presence for yourself?
The cost is minimal. I use Simplecast for $15 a month. It does take me about 4 hours a week to publish the podcast, but I have over 1,500 downloads a month. That's almost 400 people a week who are listening to my message and allowing me to help them increase their sales. My listener base grows every month and allows me to expand out into even more areas.
There's no way I could see 400 people a week, without even leaving my comfortable chair!
We can't keep using the same old ways of direct mail and cold calling over the phone.
There are so many other avenues to use, where the people are more receptive and are already hanging out. Try something new and add it into your regular mix of prospecting tools.
Tell me — are you really seeing many of those "company-generated" internet leads? Or are they going to other people? What if you could generate your own?
You don't have to sell on your podcast or blog. Just let people know what you do and how they can reach you!
Here are some statistics that may help you understand the potential of starting a podcast to find sales prospects.
According to music.com based on studies conducted by companies like Nielsen and Edison there are currently 1,000,000 active podcasts and 30 million episodes. This is up from 2019 — 700,000 active podcasts with 29 million episodes and 2018 with 550,000 active podcasts with five million downloads.
They are growing because people are listening. Think about that, and listen to these statistics before you shake your head and tell yourself this can't work for you.
55% of the US population has listened to a podcast. 37% listen every month. That's a hundred and fifty million people. 24% listen weekly, that's a hundred and three million people. 6% are Avid fans.
Weekly podcast listeners spend an average of 6 hours and 39 minutes listening to podcasts per week.
People listen to my podcast, the Sales Made Simple podcast, for about 67 hours a week. For 4 hours a week of input from me! That's like hiring a full-time assistant or two for $15 a month.
Podcasts attract wealthier and better educated people. 80% listen to the entire episode!! Where else does this happen? Do 80% of your prospects listen to your entire conversation? Check out these statistics here for yourself.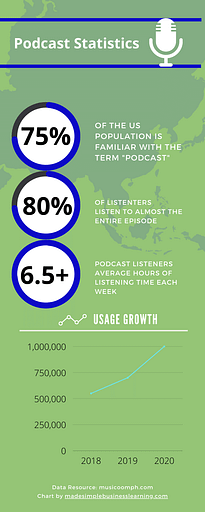 If you would like more information on getting started with a podcast of your own, fill out your information and below and I'll send you a free how to start your own podcast checklist and guide to help you get started with finding more prospects easily.
Recent Posts