Recognizing and Avoiding Sales Burnout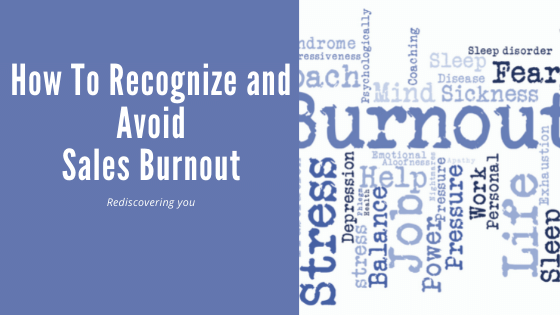 Sales burnout – something that can happen to anyone.
When you know what it is and why it happens, you will be more informed and know the signs to look for before it happens to you!
First, let's talk about what sales burnout is.
Sales is a very stressful career, with potential very large payoffs, wouldn't you agree?
We have monthly sales quotas to meet, management and clients to answer to, and lots of balls to juggle – including finding a work-life balance. And then there's the rejection that is a natural part of sales. We try not to take rejection personally, but …
Here are some signs of sales burnout that you can use as a self check.
If you find you have one or more of these, be proactive and try using some of the avoiding sales burnout techniques that I'll talk about in a few minutes, and catch yourself before you hit that downward spiral that is harder to recover from.
Sign # 1 – you are always tired,
no matter how much sleep you get, and sleeping in general may be very difficult for you.
Sign # 2 – you don't feel like you have a lot, or even any, control over your current circumstances.
Sign # 3 – you get irritated more easily than usual,
especially by little things that normally don't bother you. It also takes you longer to recover from being irritated or upset by things that happened throughout your day.
Sign # 4 – you find it hard to focus on the work you need to do,
and you are easily distracted.
Sign # 5 – you don't feel like prospecting, or maybe even going to work at all!
Sign # 6 – you're not enjoying your job,
or anything else, the way you usually do.
While these things happen normally, on occasion, we can usually snap out of it in a day or two, right? But when it just doesn't seem to ever end, or you have a tough time getting back to normal, you are probably experiencing sales burnout.
I know that, if you are in sales long enough, this will probably eventually happen to you, too. It's part of the by – stress job we love so much, and it's important to understand why it happens and what you can do to avoid it.
I'll also be leaving additional links to other resources for you in the episode transcript that you can find at ww.w cells made simple podcast.com in the blog area.
So, now you know what sales burnout is, why it happens, and how to know if you're experiencing it.
Now let's talk about 7 things you can do to avoid sales burnout.
One. Make sure you are taking the time to "disconnect" from your job.
As I am putting this episode together on a Saturday afternoon and also working on a sales deal from home, while I am on vacation, right? But, I have told my co-workers that if they call me this week from Saturday to Wednesday, I will not answer the phone.
In fact, once this deal is closed this afternoon, I'm shutting my phone down and focusing on spending some quality time camping with my family.
Which leads me to #2. Do something completely different than you normally do.
I find that doing something physical – like yard work, or camping takes me away from the sales work, which is much more mentally demanding than physically demanding.
For you, it might be running a marathon, hiking, or working out, get physical and move your body and get out of your own head for a while.
3. Put a daily plan of action in place …
with a limited amount of tasks in place to help you move forward with reaching your sales goals. I talk about this more in episode 80, How to Mitigate Fatigue, if you want to learn more.
4. Find a mentor and/or an accountability partner.
Someone you can share your feelings with and who will help you set simple goals to help keep you on track. You can check out the 5-Figure Paycheck Sales Program if you're not sure who to talk to. I'd love to help you.
5. Set boundaries to avoid becoming overwhelmed.
Boundaries put you more in control and allow you to take time to step back and regroup.
6. Take time for mindfulness and relaxation techniques.
Here's a link to some resources you might find helpful.
Take that vacation time or PTO that you have earned. As high-performing salespeople, we are always on, and as commission – earning professionals, it can be hard to take the time off that we need and deserve. But I have found that some of my best months are the ones that I took that time to myself for a week. Because when I don't take that time, I become resentful and burned out. Taking that time for yourself will allow you to come back refreshed and ready to push on.
And # 7. Don't be too hard on yourself.
In sales we have to be understanding and compassionate with our clients and prospects. We listen to what they want. Doesn't it make sense that we should be that way with ourselves, too?
If you are in or headed for sales burnout, you tend to be tough on yourself because you are not reaching your goals or performing the way you want to. We can be our own worst critics, right? Lighten up on yourself. Celebrate your wins, no matter how small or large, and allow yourself the time you need to recalibrate and regenerate and rejuvenate.
You can join me weekly LIVE on the podcast and after the recording is done, I will stick around to answer any sales questions you have, either about the episode I just recorded or any other sales questions you might have.
Recent Articles