Today we are going to talk about something I haven't done in a while, but it's probably time to update yours. It's something we tend to forget about, but as your sales skills and sales grow and you become more confident in your abilities, this is something you should update.
Can you guess what it is?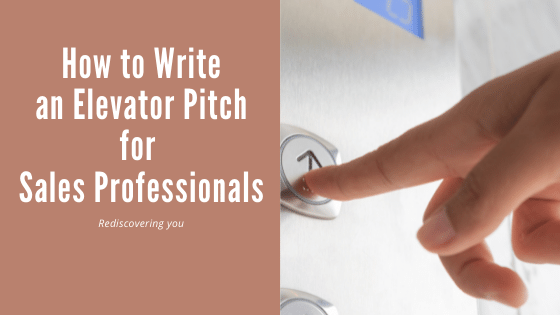 Writing your 30-second introduction, or your elevator speech.
When you meet someone for the first time, and you have the opportunity to briefly and quickly explain what you do, it's easy to think that you should be explaining your value.
But, the person you are speaking with, whether in-person or on the telephone, really doesn't care about you. What they do care about is how you might be able to help them to solve their problem.
Think of it as a qualifying conversation. If you are tuned in to your buyer's persona, you can design your introduction so that it entices the person you are talking to into asking more questions or setting up a meeting with you to learn more.
Think of everyone you speak with as a potential client. If your message is clear and easily understandable, even if the person you are speaking with has no need for what you do, they may be thinking, this would be perfect for Nicole. I should tell her about this.
When you're in sales, Everything and everyone is an opportunity, right?
If you don't know what an elevator speech or elevator pitch is, …
For sales professionals, it's a quick way to introduce yourself that you can use at networking events, while you are cold-calling, or even when you meet someone online at the grocery store. The reason it's called an elevator pitch is because it should be short enough to say between floors while you are on an elevator.
I have gotten better at getting the message that I want to share with someone for the No Fluff Sales Minute podcast, the little sister to this podcast. It was a big challenge to create a valuable motivational message in just 60 seconds, and for me, it was a lesson in No Fluff.
If you have seen my reels on instagram, that's another example of no fluff. Many of my reels are only 30-seconds long! That's crazy – to say something worth remembering in 30 seconds or less. But that's exactly what your elevator pitch needs to be. Worthwhile and memorable.
When someone asks me about the podcast and the membership, this is what I say. I help women get clarity, focus and confidence in their messaging and goal setting so they can consistently reach and exceed their monthly sales targets using my daily and weekly work-shop style podcasts and personalized group sales coaching.
That's only 15 seconds, but it's the foundation of my 30-second elevator pitch. Another example of my elevator pitch would be the introduction to this podcast. It's about 30 seconds long, and while I introduce myself and explain who I am, if you listen closely, it's all about you. What this podcast offers that you may find worth listening to.
I can take my foundation, and say it a million different ways, but the end result is that after you listen, you know who I am and how I can help you.
For the purpose of this podcast, I am going to assume that you already have an elevator pitch in place, even if you don't know you have one.
Think about what you say when you are making prospecting calls and write it down. Now whip out your phone and turn on your stopwatch, and time what you say. Is it less than 30 seconds, or at the most 60 seconds? That's about how much time you have before you start to lose someone's interest. I prefer 30 seconds.
It's your hook, in advertising lingo. What can you say that leaves people wanting to learn more about you and what you do? A persuasive conversation starter that piques the interest of the person you are talking to and leaves them wanting more.
Let's talk about 4 tips for you to use when you are creating your sales hook.
1. Be clear and concise.
Like I said earlier, 30 seconds with very little fluff. My mission statement, or hook foundation, did not happen on my first try. In fact, it took me about 2 months, and 20 tries, and the help of a coach, to say exactly what I wanted to say. Trust me, it's an art that I did not have.
This skill is also helpful as you are writing subject lines for emails!  The average open rate for emails is 12 to 25%.  You can google it yourself and see.  How does your average open rate compare?  My average open rate for the Sales Made Simple Podcast weekly emails that I send out is about 40%.  And some of my members open and read that email more than one time!
Last month I had an email for my day-job that had an open rate of 96%! Definitely because of the subject line, the hook. But the body of the email led me to two very nice sales.
It takes work, and analyzing what works and what doesn't, and constant fine- tuning. Just like your elevator pitch. And the better your 30-second sales hook, the more success you will have in sales.
2. Grab their attention quickly.
And make it about them, not you. Even though it may sound like it's about you at first, really it's about them. To get the person you are talking to to ask questions. Someone may ask me the name of my podcasts. They may ask me what group coaching is.
And I'm ready to answer them! In fact, I usually ask them if they would like me to text them the link to the podcast. And now I'm in their phone. Do you have a link that you could quickly text to someone so that they could learn more about you? And if it's not for them, they may know somebody that it can help.
3. Make it memorable.
And nothing is more memorable than getting into their phone, right? Now you have a personal relationship. Yes, you have to be willing to give out your personal phone number, but I have found nothing that has improved my sales success better than quickly creating a personal relationship and sharing my cell phone number.
4. Practice.
Say it over and over again until it becomes a part of who you are, so you are ready when you have the opportunity to share. That's what being a sales rockstar is all about. So that when the opportunity arises, you are ready to help someone, using all the skills and training you have to close the sale.
Or watch the YouTube Video here.