We all know the know, like and trust factor. But do you understand the know, like and trust factor? Do you know the tiny important phrase that so many people leave off ? – "all things being equal". The actual quote from Bob Burg is "All things being equal, people do business with, and refer business to people they know, like and trust."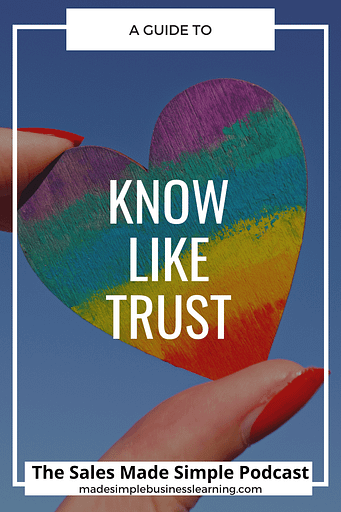 And, I have some concerns over the way people use, or overuse, or even mis-use the know, like and trust factor, without taking all being equal into account. Because all things are NOT equal – especially in 2020, right?
Everything is different.
Today I'm going to share with you why I think that trust is the ultimate factor. Please allow me to explain.
Most importantly, people need to trust that you will do the job better than anyone else, no matter how much they might like someone else.
I have bought many things from people that I didn't necessarily like. I didn't even know most of them. I just trusted that they were the best person to help me get what I wanted. What I wanted was results or the knowledge of how to do something.
In the end, a client getting what they want and their belief that you will provide that for them is what will make the sale.
Trust in the product itself. In an online world we now look at a product, the reviews, and buy something that we trust will do what it says it will do. Usually, I know nothing about the seller.
We only have the reviews that we can read, from total strangers, saying the product will do what we trust it will do. Now you can see why getting testimonials from people you have helped in the past are so important?
You don't know the seller, or the company, but you trusted you would get the results that you want based on reviews from strangers.
Why do you buy something?
What makes you open your wallet to a total stranger?
While someone being friendly might get me started talking, I will buy because I believe they can help me get the results that I want. It's not their knowledge of the product that impresses me, it's how well they can show me that the product will do what I expect it to do.
So ask your prospect … do you trust me?
Actually, you should just say it to yourself, because it sounds spammy and fake if you really ask your prospect directly. Watch them and listen to them as you go through your presentation. Pay close attention to how they are interacting and reacting with you. You may want to watch my YouTube video about Body Language.
On the other hand, there are people that I am friends with that I wouldn't trust with my business, or my children. I'm sure you understand what I mean. If their expertise is not with what I want to buy, I don't care how friendly I am with them. I know that they will not be able to do the job, and I will not refer them to people or do business with them, even though I love them.
A trend that I have seen recently
Prospects want to know we are going to the extra step to help them stay safe in a face-to-face situation. I tell people what I am personally doing to guarantee my office is clean and disinfected between meetings. I am wearing a mask, wiping down surfaces, cleaning pens, and social distancing. But that is a new way we can establish trust. Show that you care enough about their health and safety to do what is necessary to keep them safe.
I have stopped going to stores that are not reinforcing safety measures., and I have even paid more money to do it. This is because I trust in the stores that are trying to do what they need to do to protect their customers.
And when people trust you, they are more likely to buy from you, even if your product is more expensive.
The best part is, people are more likely to refer others to you because they trust you. They trust that you will provide the same satisfaction level to the person or company that they refer to you that you provided to them.
Ways that you can build trust
Be available for your prospects, and answer their texts, emails, phone calls, and questions quickly.
Express empathy about how they feel and what they want. This will show people that you have their best interests at heart.
Listen to your prospect and determine their needs and the results that they want to see. For example, be respectful of your prospect's needs, even though it might not be what you would do.
Show integrity – do what you say you're going to do.
Be reliable and dependable – don't ghost your clients the minute something needs your attention that may be time-consuming or uncomfortable. Face it head-on and correct the situation.
Establish rapport – buyers are more likely to trust a salesperson when they can find a common ground, like an interest. If you can't find a common interest, express interest in their hobby or expertise or passion and listen to them.  You don't have to be their best friend, just try to be nice.
So, when someone does not buy from you, it is because of one of these three reasons, based on trust.
– they don't trust what you're saying to them,
– they don't trust that you can provide them the with results they're looking for, or
– they don't trust in the value of what you say you're giving them.
Ultimately, if you can overcome these three objections and understand that often-left-out part of the know, like and trust phrase, you will close more sales.
Share this: