The Money Is In The Follow Up
How do you know when no means no in a sales's situation?
It's so true. Sometimes when we get objections or a prospect says no, we get a little bit frustrated and flustered and we don't know what to do next.
Start to look at objections as requests for further information,
because a lot of times when people are saying no, they're really giving you a way to answer an objection. They're asking you for more information because they don't understand something you said, they don't know exactly what your offer is, they may not see how it's going to help them.
That's what it's really all about…them. Isn't it?
"Treat objections as a request for further information."

Brian Tracy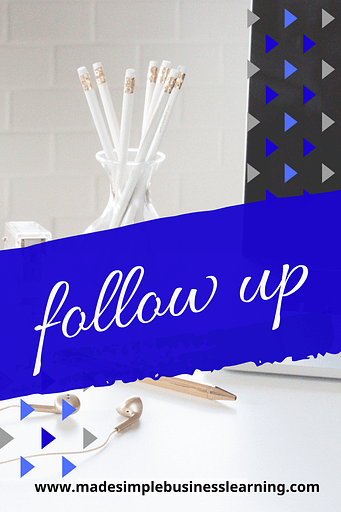 So, how will you help your customer?
Maybe they're really saying this isn't the right time right now or, they don't understand something you said.
Maybe they're saying they don't have the money right now, but that doesn't mean they're not going to have it in two days or in a week.
There have been many times when someone told me they didn't want to make payments on what I was offering to them, and I would think to myself, that's it! We're done. Then I would stop talking and not say anything – because I didn't know what to say.
After waiting about 30 seconds, the prospect would say to me, "So I'm just going to pay it in full".
It's surprising, but that's exactly what they said! Some people just don't like to make monthly payments – make sure that you understand what your customers' objections really are.
It helps when you spend that time before you start to talk about what you're selling to them, or what your offer is.
Take the time to learn about your sales prospects.
Learn what their desires are and what makes them tick before you get into the main conversation.
Sometimes people tell me right from the beginning that they're not going to buy anything and I tell them that's okay. I just want to share the information, or do whatever they wanted to see me for it to begin with.
I actually find that those people are the people that will spend money with me the fastest. So again, no doesn't always mean no.
Let's assume that you've gone all the way through your presentation and you can tell your prospect is just not getting what you're saying to them. You've lost them at this point. So ask them why they feel that what you're offering them is not a good fit for them at this time.
Because if you don't ask the hard questions, you're never going to get the answers,
and you might be surprised with their answer.
I've been pleasantly surprised more than once. In sales, you have to ask questions so you can understand how to better help your prospects.
"Why don't you feel this would be a good fit for your company or are you?" Listen to them and let them talk again. We have to be quiet and allow that uncomfortable silence. Sometimes 30 seconds can feel like 10 minutes.
Let them think about their answer. It's really important to both of you that they take a minute to think about it.
They may say, "This isn't the right time for me", or "I don't understand how this fits into my plan", or "I don't have enough money."
Or, "I have enough money, so I don't need this life insurance protection." My company already has someone they're working with and they're doing a really great job for us. I don't understand why I would need to switch."
You have to go back and show them
how it would make them look better in front of their bosses, their co-workers, or their friends. You have to explain it to them again. It's OK to go back to the part of your presentation where you lost them and start again – this time asking them questions as you go along.
And if you really do get to a standoff point, say, "I understand completely. You need some more time to think about this. Would it be OK if I give you a call again in a week?", Or two weeks, depending on the situation – maybe even a month? I hate to say it, but sometimes it's actually three months depending on what their contract is for and how long it's for.
If they say yes, then you know it's not a no.
Make sure you put this sales follow up call on your calendar or in your CRM and then you remember to call them, especially if this is someone that you've never talked to before and you're meeting with them for the first time.
We've all heard that it takes seven touches before someone will buy from you.
They might just not trust you yet. Prospects have to gain that trust in you before they're going to spend their money with you.
After our meeting, I follow up with a handwritten note. It's old-fashioned, but it's something that not a lot of people do anymore. But it's definitely noticed. It goes a long way to show them that you are trustworthy and that they are important to you. You also may want to send them a follow up email.
Or even a text, if you have that relationship with them. Text them the next day or later that afternoon to say thank you. "Thank you so much for your time and for meeting with me. I really enjoyed getting to know about you and your needs or your company's needs."
Put them on a weekly email list to let them know what's going on with you and your company. Refer it back to what they are looking for, new things that your company is doing, something that you feel would be beneficial and valuable to the prospect.
Then make that sales follow up phone call when you promised them that what you were going to call. I think there's so much business that is lost because we tell people that we are going to call them in a week, and then we get busy and we don't.
No sales follow up equals opportunity lost.
I always make sure that I have a list of people on my CRM to call and follow up with every day.
It's like having my own personal assistant and then it pops up with the calendar reminder telling me to call and follow up with someone. So, before I leave the office at night, or even in the car on the way home, I will make that phone call.
I've been known to set some great appointments while driving in my car. When I leave the office, I don't have an appointment. I go back the next day and I have the appointments that I need. It's important to just follow up when you say you're going to. And remember to put that appointment that you set in your car also on your calendar or your CRM so you don't forget it.
It takes seven touches before someone will buy from you — that's a trust issue.
Just like I'm sure you have when someone presents an idea to you for the first time, you may have to go home and think about it because you don't understand how it's going to work for you at first. But that seed is planted.
The more you think about it, the more it makes sense to you. Your customers and prospects are the same way. Even if they feel they want more information, they're thinking about what you said and you.
Bring that back to the top of their mind. That's where your sales follow-up call works.
It's all in the sales follow-up — don't loose the sale.
One of my favorite sayings is don't work on step two until step one is finished.
It would be like going right from the first hello on the phone with the new prospect to starting right in with your sales pitch and the asking for a sale. I guess that might work sometimes, but my clients and prospects seem to take a little bit more warm up.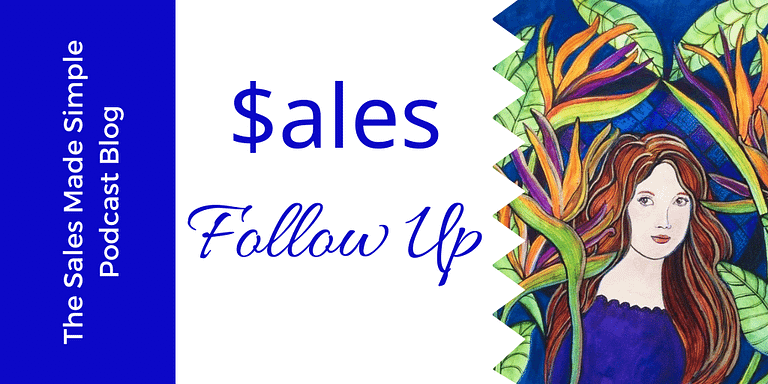 You have to plan your sales and sales follow up strategy
— and today preparation is more important than ever.
● Having your materials ready on your computer, ready to share on a virtual call.
● Emailing quotes and proposals to people in a timely fashion.
● Being on that virtual call early so you can greet your prospects when they get on, so that they know they're in the right place.
Step one is the preparation, before you go to step to the

virtual sales call
When I'm on a virtual call, I want to make sure that I'm sharing my screen so that my customer and I are looking at the same thing. Otherwise, they're left wondering what the heck I'm talking about, and they may be too embarrassed to speak up.
We've all had to adapt to selling virtually and taking credit card information over the phone. Your prospects have had to adapt, too.
I've also had to change my never sell over the phone mentality to how can I effectively sell over the phone?
I talk to my prospect on the phone, find out their needs, email them my recommendation and a price quote. Then I schedule a follow up or virtual sales follow up meeting, so they can approve or tweak the agreement with me. It's how I've been doing it lately and I think it's how I'll be doing it for a long time to come.
How we sell may be changing, but selling will never go away. And if you're not selling your product or serving you prospect, someone else will be.
Recent Posts