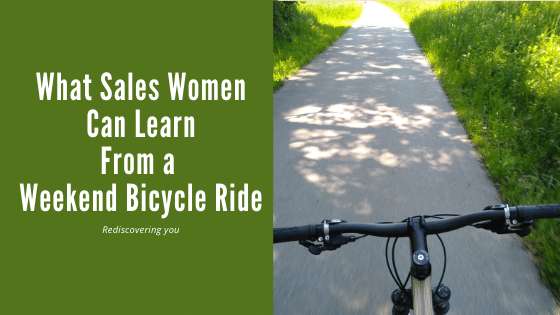 Last week I took some well-deserved time off to re-energize.
Usually I would go to New Jersey to visit my family, but that obviously was not in the cards this year. I was able to go to my daughter's house, where we cooked, ate well, and watched movies all weekend.
We also got to go on a bicycle ride that I've wanted to do since she moved there last October. Twenty minutes into the ride, we stopped before coasting down a hill. I looked down the hill suspiciously. I was sure I would be walking up that hill on the way home.
So we rode and talked and drove on for another 15 minutes before we turned around to go home. We reached a certain point right where the incline started, right before the big hill. I started up, planning on going until I got to the point I knew I would have to walk.
I've learned with physically challenging situations to keep your eyes on the road directly in front of you and just focus. We got to the point where I knew I would have to walk. I stopped to get off the bike, only to have my daughter say, "Mom, that was the hill!"
Amazing – I had made it up the hill because I was focusing on what was directly in front of me, not on what was 50, 25, or even 10 ft in front of me.
Actually, I was kind of embarrassed. I realized that I had allowed myself to almost become a victim of Inner Critic mindset. Instead, I had an aha moment of doing something I didn't think I would be able to do.
I wouldn't say the incline was easy, but it wasn't anywhere near as difficult as I expected it to be.
Think about those things in your life that you are facing, or afraid to face, because you think it will be too hard, or even impossible to do.
Maybe it's finding time each day to do enough prospecting to fill your pipeline and keep you moving forward.
Maybe it's having enough confidence to get through a sales presentation and actually ask, and get a sale.
Maybe it's just finding the energy everyday to keep doing the right things that will bring you the right results. Day after day, consistently. One boring pedal push after another, until you make it to the top of that hill.
Focus on what you're doing right now instead of thinking about the future. Push that Inner Critic that is holding you back to the side.
Having the right mindset in sales is what will keep you going.
In my case of the long bike ride, having someone to talk to and keep my mind off the road was the key.
And when we got to the incline, my daughter already knew that it was actually my dreaded Hill. She just didn't tell me. In all fairness, it looked much worse from the top and it did from the bottom.
Sales Mindset and Perspective.
"Whether you think you can, or you think you can't – you're right".

-Henry Ford
I was just oblivious to where I was and my mind didn't know what my body was capable of doing.
That is something I have noticed in new salespeople. I have watched them:
1. sell something that I didn't think anyone would buy or 
2. they sold it for more than I thought was possible – AKA no discount. Has that happened to you?
It happens because those newer salespeople don't know any different. No one ever told them, "You can't do that." or "It's impossible", so they do it. Before their new salesperson brain and sales mindset gets cluttered up with everything that they get told is hard or impossible, they just go out and do it.
There's a second part to this sales mindset story.
Today my daughter texted me to let me know she continued the bicycle ride and went farther along down the trail… another three miles or so. And she did the whole ride in about an hour.
Our ride was 45 minutes – with water breaks every 10 minutes – it's important to stay hydrated when you live in the south 😉 , even in the middle of the winter.
I asked her if the second part was harder, and she said, "No, the first part we did was much harder. That's where I spent most of my time".
She went five miles farther in less than twenty minutes – how could that be?
Then she sent me a picture of what she saw, and a map of her route. Take a look at the beautiful lake she saw, instead of the cross streets we saw when we were riding.
She rode on five minutes farther than we originally did, and was rewarded with an easier ride and a beautiful lake to ride around.
The point is… you know there's always a point – we gave up too early! We did all the hard work, but stopped because the first part was pretty hard and we didn't want to get stuck too tired to make it home. Stranded on the side of the road gasping for breath.
When, if we just pushed on 10 minutes more… How many times do you give up or stop when you're so close to your reward?
It happens all the time. We work so hard – learning everything about our company and the products or services we can sell, only to give up when it doesn't happen as quickly as we want it to.
It's the same with prospects. While I have gotten better at closing sales in the first or second meeting, there are those prospects that need more nurturing – usually resulting in a larger sale!
I hope the next time you are ready to give up, either on your job or on a prospect, you remember the bicycle ride, and you find the strength and mindset you need to just go one or two more miles, until you get to a smoother path along a beautiful lake.
Recent Posts: