Are Sales Scripts Helpful or Just a Waste of Time?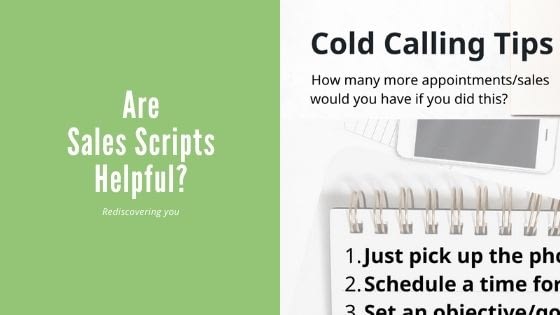 The other day I got an email "why I don't love sales scripts", and it basically said that sales scripts take the human-to-human connection element out of sales.
So, my analytical brain immediately went into overdrive about why I think using a sales script is instrumental in a salesperson's success, when used properly.
Meaning, you understand the how and why behind each script, and how and why you should incorporate prospecting into your daily activities, including time to research your prospects before you make that call.
It's the same with closing techniques and scripts. You are probably already using some type of closing technique that is working for you, at least a little. But do you know why it works, or the science and psychology behind it?
When you really understand not only what you are saying, but why you are saying it, I believe it allows you to create a deeper human-to-human connection. Because you learn how to ask deeper, more meaningful questions and to understand your prospects' wants and needs in a deeper and more meaningful way.
It creates empathy and understanding into your prospect's current situation. That's one.
And two is, it helps the salesperson to have more confidence to pick up that phone, or send that email that will help to move the prospect in the right direction, while making sure to include relevant points and have competent and effective responses to many prospect objections. This helps to take the uncertainty and stress out of the sales conversation.
In my opinion, sales scripts are designed to give you talking points to touch on.
While customizing those talking points for each salesperson and each prospect, without sounding robotic.
To "avoid the robot", I also say the sales scripts to the person I am teaching them to. Or, in the case of the Cold Calling Magic scripts and mini course, I provide videos so you can hear how natural and conversational they sound, before you use them.
Take the scripts, reword them to fit how you naturally speak, while retaining the basic essence and ideas.
The goal is, that as you grow and become more confident, you will create your own talking points.
I remember how terrifying it was when I was first given a list and told to pick up the phone and start setting appointments.
I'm not being dramatic – I was terrified. Phone Anxiety is real. And I didn't even know the term for it back then. But I knew if I wanted to sell, I was going to have to prospect.
As an introvert, I knew that I would feel more comfortable if I just had some idea of what to say before I picked up the phone – a security blanket, if you will.
Just like I had to learn to take a deep breath and ask for a sale, I picked up the phone and started calling.
The more calls I made, the more appointments I set. And my managers took notice, and soon I was teaching my simple script to other sales people. Instead of having five appointments a week I now had ten.
I actually started to enjoy the conversations I was having over the phone, and I set even more sales appointments!
Why? Because people can feel your energy over the phone. And if the energy you give off is positive and caring and happy, other people will want a part of that energy and will want to meet you.
Prospecting and cold calling is just the beginning of creating the interest, and the relationship where someone wants to meet you and learn more about what you do.
And if having a little "cheat sheet" helps you to get started, there's nothing wrong with that. Whether it's a script you adapt from someone else, a script you create for yourself, or a hybrid of both.
I think you should create for yourself any advantage you can to help yourself be more successful in your sales career, and that's what I teach in a 5-Figure Paycheck Sales Membership.
There will always be someone out there that says "sales scripts don't work",
or "cold calling is dead", or "selling is manipulation" – whatever.
I believe that selling is helping another person to achieve their own goals and meet their own needs.
Prospecting is an unavoidable part of the sales process.
There is no "magical" cold calling script, or any other sales script for that matter.
The magic is in you, and how you use it to create the confidence you may actually need to pick up the phone and start calling.
In my case the "magic" was twofold.
One, that I was able to pick up the phone at all and talk to strangers, and
Two, that I came to actually enjoy prospecting over the phone.
The "magic" is that you can actually confidently set qualified appointments over the phone and grow your business into a 5-figure-a-month income for yourself.
Recent Posts: