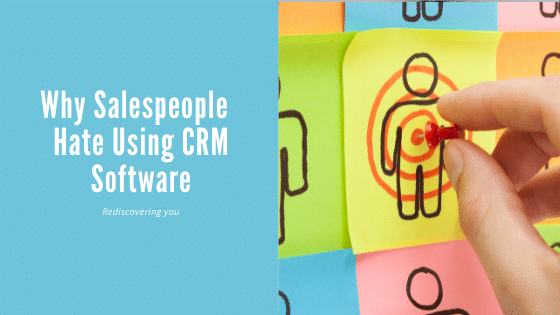 Is using my company's CRM software really to help me, or does it just help my sales manager to keep track of me? I found this infographic from Accent Technologies, Reasons Why Sales Reps Hate CRM.
First I'll share the reasons and then I'll go back and talk about each reason.
The number 1 reason sales reps hate CRM software is that it's time consuming.  The average time spent entering notes from a sales call is 7.5 minutes.  
The number 2 reason sales reps hate CRM software is that it's frustrating and hard to use.
The third reason sales reps hate CRM software is they say it's passive and it doesn't significantly impact sales revenue.
Another reason sales reps hate CRM software is it's designed for sales management, with 55.8% of sales managers being measured on how well their team adopts CRM.
OK, that gives us enough to work with. But I agree, a CRM or customer relationship management software is time consuming, it can be hard to use, and sales managers do watch you and how you use it.
But, even though it may be designed for sales management, when I was given a CRM tool to use, instead of just keeping track of my leads on a spreadsheet, my sales increased about 25%. Why, because I knew who to follow up with, when to follow up with them, and I didn't "lose" sales leads like I did before I had a CRM.
It is all about the information you enter, including entering notes, quickly, about your meetings, and setting that follow up date so you remember to follow up.
I had to change my mindset from how does the company use this to track me to how can I use this to track my clients?
Make it about you, not your company. I find the better the notes I put in, the faster I can pull up information when I speak to the client again. With the click of a button, I can hop on a call and know exactly what we spoke about, access any quotes I may have given them, know private info about them that they shared with me, such as where they went to school, what they like to do for fun, or even their dog's name. How's that for personal?
I can also see the last time I spoke with them, texted them, or emailed them AND if they opened their emails up and how many times.
So overall, I can see so much value in a CRM for me – because that's what it's all about when I am working with a prospect. How can I better help them and close the sale faster?
It's kind of like being on Linked In, Instagram, Facebook or YouTube. They are watching your every click to see how long you spend on the platform, what you are watching or engaging with, even what you purchase. But does that stop us from using these platforms? Probably not – because we see a value in using them above the information we are giving them with every click.
Is my using a CRM software important to my sales manager?
I really don't care, because I know my sales results have increased significantly with the information available to me.
Is a CRM software hard to use?
Sometimes the information I want is not easy to pull up, but if you enter your information correctly, you will be amazed at what you can access. For example, if you type "interested in Product A" in the notes area, and one day you are having a promo for Product A, go back and type Product A in the search and all your prospects interested in Product A will populate. Instant prospecting list.
Create an email template for Product A, and you can quickly email all those prospects, or call them or both. I can't think of an easier way to keep track of this stuff.
But the information you get out of your CRM is only as good as the information you put in.
In my opinion, it's worth your time to sit down with someone who understands your CRM to let them show you how to maximize the impact for your own sales.
Another thing I really like about using my CRM is that it helps me when I am prospecting.
There's the list of follow-up calls that I create after each meeting or phone call, so I know exactly who to call and when, but there's also a sales forecast for this month, and next month. Have you ever looked at yours? When I am trying to figure out who I can call to set up a meeting with, and I feel like I have exhausted every avenue, I look here. Is it always accurate? No, because the information I put in may not always be accurate, or I get frustrated with cleaning my leads up, but sometimes there may be a prospect that I overlooked. Or I look at next month's list to see if there is someone in there I can work to move them closer to a sale – this month.
Perspective – it's up to you. How do you choose to look at this thing called a CRM? I can tell you it's here to stay. Whether it's a way for management to "spy" on us, or a tool you choose to use to increase your sales.
As the late Dr. Wayne Dyer said, "If you change the way you look at things, the things you look at change".