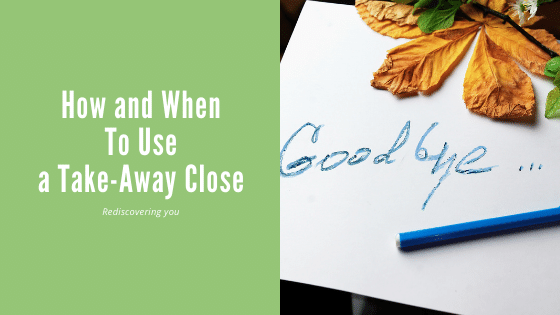 How did you end your last month, or should I say when did you end your last month? Did you give up too soon?
A couple of weeks ago I had to unexpectedly take a week off for a family emergency. When I came back last week, I didn't think there was any way I could even hit my quota, let alone my personal monthly goal. But I pushed forward, contacting those prospects I hadn't closed earlier in the month, or last month, and I finished in a pretty good place.
I focused heavily on phone calls, emails and texts typing and the take-away close.
Yes, a couple of prospects told me nicely they were not interested, but enough of them decided to get off the fence and make the decision to work with me, and I won the month.
Sometimes when you let someone know you will not be following up with them any longer, they move into action.
It was an 80% win last month. I lost two, but I closed 6 and set appointments with two more to help them finalize their decisions in November.
But you do have to be willing to lose a couple. I like to look at it as two less people I will have to spend time and energy pursuing. Time and energy I can better spend meeting new prospects who are open to having a conversation with me.
I save this "mass take-away close" for three or four days a year.
Where I contact all the "holdouts" at one time, and clear out some of the pipeline, by either letting them go or moving them forward.
This was the perfect month to do that, and it worked. I even got a couple of referrals from the people I closed. Not a bad month.
I think the reason I was able to do this was because of the relationships that I work on building every day. So that when I contact these people, they are expecting my call. But, I don't believe that any of these people that I called would have called me on their own.
If I couldn't reach them by phone, I sent them a text – because that's the kind of relationship I try to encourage with a prospect right from the beginning.
Sometimes I text them my contact information, or an appointment reminder. Maybe it's a picture or a link to an article I think they would find interesting.
I have texted people recipes, restaurant recommendations, or a happy birthday wish.
Having a system in place and keeping track of where prospects are in the sales cycle using my CRM really saved me this month and allowed me to choose who to use the take-away close with.
If you missed the 3 Day Workshop, Sales Success Systems, I did earlier in the year, tap here to listen now. Make sure to grab the worksheets to go with it.
It has worked for other people I have helped, and it certainly helped me this month to finish where I wanted to.
Yes, we all have prospects in our pipeline that we leave unclosed. We get busy and forget.
Sometimes someone else might come along and close them before we remember. It's important to take some time every month to go back and look at our appointments from the past three or even six months. Did you close them? Do you need to follow up? Is there unfinished business you left on the table?
Take sometime in November – early November before we start to get that "call me after the holidays" excuse, and reach out to those people again, in every way possible – phone, email and text and watch your sales increase this month by 20 to 50%, or even more.
Use the take-away close to clean up your CRM before the end of the year. Close what you can, and let the rest go.
Take the initiative to do something different, even if it feels a little scary
Like saying "Hey, this will be the last time I'm reaching out because I'm starting to feel like a bit of a pest", and mean it.
Something else for you to try is to ask questions about something you might be struggling with. You can ask me anything about sales almost every Sunday afternoon at 3 p.m. Eastern Standard Time, right after I finish recording the live podcast, which you know only takes about 10 minutes. Free weekly sales coaching. Who does that?
Yes, you have to make the decision to ask for help, and know that I am here for you when you're ready to make that small commitment to show up for yourself.
And feel free to bring a friend!
Head over to www.salesmadesimplepodcast.com and you can register for the next live recording session and free coaching time. Don't worry, the coaching time will not be on the podcast. It's just between you and me, and I hope to see you there.